The Cleanser Conundrum: Which Face Wash Is Best for You?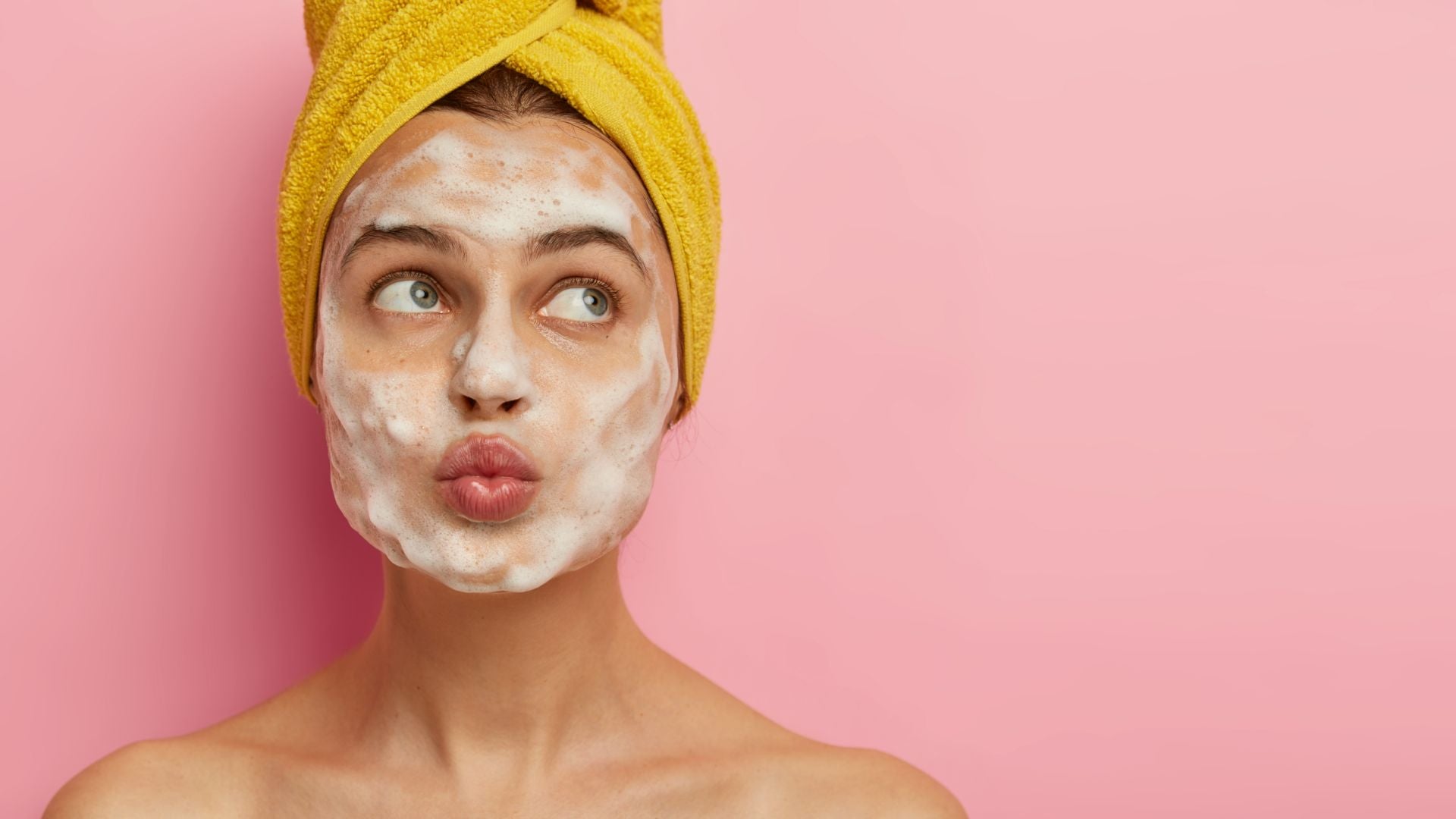 When building a solid skincare routine, a quality cleanser is one step you definitely don't want to skip. Making a habit of using facial cleanser daily is an act of kindness towards your skin, allowing it to breathe, re-balance and reset.
If you're constantly on the hunt for face washes, creams and balms to get that perfect deep cleanse, we've created this guide to cover all the different types of face cleanser.
Whether you have sensitive skin, excess oil, clogged pores, or dry patches, we're here to help you find your holy-grail product.
What is a cleanser?
Before we start, we need to go over some skincare 101. What is a cleanser? It's a product that, in the simplest terms, freshens up your face. Using face cleansers at nighttime will not only help with removing makeup, but will also lift away any dead skin cells, sebum, dirt, pollutants... anything that your skin has picked up through the day (you might be surprised!).
If you have oily skin, you might also like to cleanse in the morning for a fresher feel. People with other skin types, especially those prone to dry skin, may prefer just a splash of water instead. An AM cleanse isn't always necessary.
Why do cleansers vary?
Different types of facial cleansers have different functions. Some cleanse deeply; some only remove dirt and makeup; others cleanse and gently exfoliate.
To find the right cleanser for your routine, you'll want to consider your skin type as well as your needs. If you want to double cleanse your way to healthy skin, it's best to use two products: one to remove grime, and one catered to your skin type. An oil-based cleanser or cleansing balm is a smart choice for taking off makeup first, while a foam cleanser, cream cleanser or gel cleanser is best for the second step.
Ready to find the perfect cleanser for your skin type? Let's dive in.
Different types of cleansers
Foam cleansers
Best for: Combination skin; Normal skin
A foam cleanser usually starts out as a cream or gel, then transforms into fluffy foam once wet. Foam cleansers have a rich quality, meaning they're usually quick to remove dirt, SPF and excess sebum.
Foaming cleansers get a bad rap for being drying, but this actually depends on their ingredients. SLS (Sodium Lauryl Sulfate), commonly used in foam cleansers, is worth avoiding because it's too harsh for most skin types, and can leave facial skin feeling "stripped" and tight. Instead, look for ingredients that deliver a luxurious lather without drying skin. In our Vitamin C Foaming Cleanser, we use a coconut-derived alternative!
Gel cleansers
Best for: Oily skin; Combination skin; Acne-prone skin
With gel cleansers, the clue's in the name: they have a refreshing, gel-like consistency.
Don't be fooled by their lightweight feel—these formulas are optimal for deep facial cleansing. If your skincare goals involve removing excess oil or combating acne-causing bacteria, gel cleansers will get the job done. Oily and combination skin types tolerate gel cleansers best.
For a hard-working but gentle, everyday gel cleanser, try our Gentle Facial Cleanser. Formulated with aloe vera, it keeps the epidermis soft and hydrated.
Oil cleansers
Best for: Dry skin (and all other skin types, including sensitive skin, for a double cleanse!)
If you're wearing SPF or makeup daily, double cleansing will keep your skin feeling (and looking) great. That's where oil cleanser comes in. It'll do a great job at clarifying your pores and removing makeup and grime. Ideally, you should use oil cleansers first, then follow them with a product that's specifically designed for your skin type.
One final note: if you have oily skin, you don't need to worry about using an oil cleanser. In fact, these formulas work with your natural oils to balance the skin barrier—which regulates excess oil production!
Cream cleansers
Best for: Dry skin; Sensitive skin; Mature skin
As their name suggests, cream cleansers have a rich texture that hydrates. Best suited to dry skin (as well as sensitive types, because the formula tends to be gentle), a luxurious-feeling cream cleanser won't unbalance your complexion's natural oils.
These products are often rich in hydrating ingredients that keep skin feeling moist and looking plump. Because of this, dermatologists will often recommend cream cleansers, alongside anti-aging creams, to people with concerns about fine lines and wrinkles.
While they can be used as a second step in a double-cleansing regimen, many cream cleansers are great at removing makeup too.
Micellar cleansers
Best for: Sensitive skin; Normal skin
Ever since micellar cleansers made their way over from France, we've been hooked. These products are named for the micelles (micro oil molecules) suspended in their water formulas. Micelles—in that typically French, effortless way—attract dirt, oil and cosmetics, lifting them away from the skin.
When you're looking to remove makeup, micellar cleansers are your best friend. If you're wearing waterproof makeup (hello, stubborn mascara...), a micellar water will get it off quickly.
Lightweight and alcohol free, micellar waters are great for sensitive skin types. They're also handy for travel and freshening up on the go, too: all you need is some cotton pads for quick but deep cleansing.
Cleansing wipes
Best for: Any skin type (but be wary of over-using them on sensitive skin)
Now for another convenient option: cleansing wipes. Of all the products we've mentioned so far, wipes are the most portable. If you need to remove makeup or quickly get oily skin in check, they're good to have on hand. Try our Bathing Wipes—suitable for use on the face as well as the whole body—when you're traveling, at a festival, or just in a rush.
While wipes are the perfect solution when you're on the go, they're not good enough at deep cleansing to be used every day. For your usual routine, you'll want to consider one of the other product types on this list.
Clay cleansers
Best for: Oily skin types; Acne-prone skin; Combination skin
So you've heard of clay masks, but what about clay cleansers? When it comes to dealing with breakouts and minimizing the appearance of pores, these formulas are winners.
If you have oily skin, a clay cleanser will do a stellar job of absorbing excess oil from your T-zone. Be sure to use yours as the second step in your cleansing routine, because they're not so great at makeup removal.
Cleansing bars
Best for: Oily skin; Combination skin
While using regular body soap on your face sounds like a nightmare—especially if you're prone to dryness—bar cleansers aren't anywhere near as harsh. Many are made with soothing ingredients that won't disturb natural pH levels or upset more sensitive skin.
If you're looking for an exfoliating cleanser that will remove excess oil without drying your complexion, check out our Salicylic Acid Bar Soap. Made with zit-busting SA and finely ground almond and walnut, it has antiseptic and exfoliating properties that acne-prone skin will love.

Select your region