Why You Need Argan Oil in Your Hair Care Routine (and How To Use It)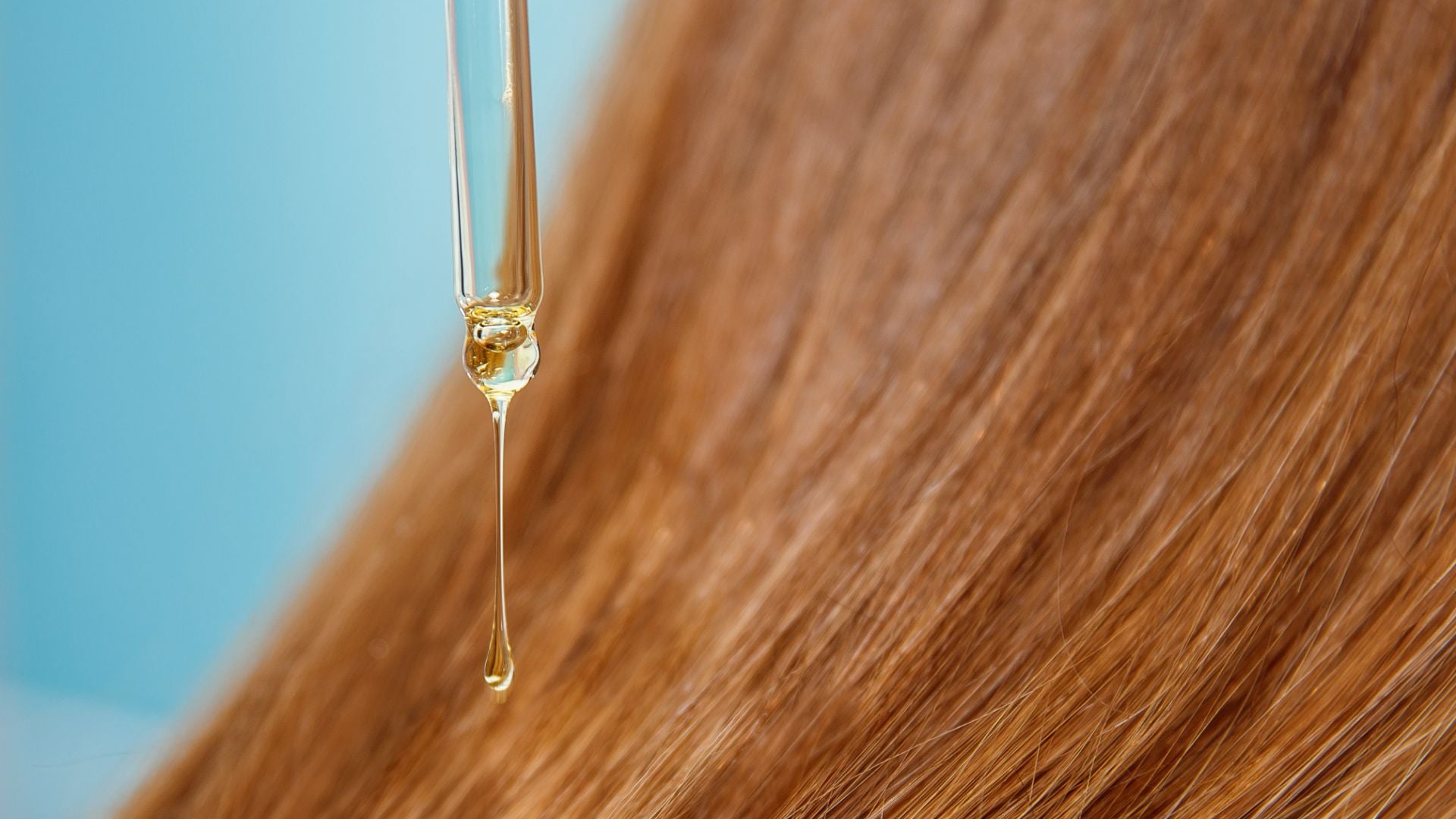 It's no secret that hair oils have what seems like mystical properties that can boost growth, reduce breakage and bring your hair back to its former glory. But there's one oil that's considered the holy grail for achieving happy, healthy hair: argan oil.
Argan oil has a rich history dating back to at least 600 BCE, where it was sold by merchants throughout the Mediterranean region. It was originally used as a culinary oil and was a staple in local cuisines, as well as a feature in traditional medicines. It wasn't until the 20th century that it became popular in the cosmetics industry for its many benefits for hair, skin and nails.
Because of argan oil's rise in popularity over the past century, it's impossible not to have heard about its many beauty benefits, and you may be wondering how to incorporate this "wonder oil" into your own hair care routine.
But what exactly is argan oil, and how is it made? Plus, with a slew of argan oil hair products saturating the beauty market, how do you find the best one for your hair type? Keep reading, because we're about to cover all of the juicy details behind this age-old beauty secret.
How it's made
All argan oils are derived from the fruit of the argan trees that grow in the arid regions of Southwest Morocco. It's here that indigenous Berber women perfected its production over centuries using traditional extraction techniques.
While most of us are only familiar with argan oil, the people of this region have a holistic and deep-rooted history with the whole argan tree, where its bark, fruit and kernels are utilized in many aspects of everyday life.
Culinary argan oil is made when the kernels inside the fruit are roasted and then ground to produce a dark amber oil, but cosmetic argan oil has a slightly different production process.
Producing cosmetic-grade argan oil has traditionally been a woman's job. Care must be taken to avoid damaging the delicate kernel within the ripe fruit. To extract the kernel, the fruit is opened by way of hitting it with a large rock. Once the kernels are exposed within the fruit, they are gathered and pressed to extract the pure argan oil within. It's a laborious, time-intensive process, which is why this stuff is aptly called the "liquid gold" of Africa's northern region.
As you might have gathered, there are some slight differences in the extraction process when it comes to culinary vs. cosmetic argan oil. This is due to argan oil's unsaturated essential fatty acids—the primary driver behind its overnight success in recent years.
When culinary argan oil is made, it's roasted, and this high heat significantly depletes its fatty acid content. When argan kernels are cold-pressed, their beneficial fatty acid content is preserved.
Fatty acids—including linoleic acid and omega fatty acids—are the building blocks of hair and make up a whopping 85% of its total lipid content. They're found in the hair cuticle and hair cortex, and these acids are the key to healthy, happy locks.
Argan oil is also packed with vitamin E, a key player when it comes to scalp health. Vitamin E protects the scalp lipid barrier, which in turn promotes hair growth. It's also excellent at soothing an itchy scalp, so this ingredient is commonly found in shampoos that treat psoriasis.
The benefits of argan oil
We've touched on some of argan oil's hair benefits above, but it can be hard to navigate the endless plusses of this hair oil, so here's a list of its top 7 benefits for hair:
1. Moisturizes and conditions
2. Reduces breakage and split ends
3. Increases shine
4. Improves growth and thickness
5. Prevents damage from styling and coloring
6. Protects the scalp
7. Helps to prevent hair loss
If your goal is to make hair softer, increase hair's elasticity, or simply hydrate thirsty strands, then you need to add argan oil to your hair care routine. But it doesn't just come in the form of a pure oil—it's often used as a leading ingredient in hair masks, shampoos and conditioners, and styling products. These all have different benefits when it comes to your hair type, so choosing the right argan oil products is key.
How to use argan oil if you have...
Straight hair
If you have naturally straight hair, chances are a good hair day can quickly become a frizzy hair day if the weather isn't playing in your favor. Hair oils can help to combat frizz and boost shine. One easy way to achieve this is with a pure argan oil for hair.
To apply argan oil, add a few drops to the palm of your hand, then rub your hands together to heat the oil up to body temperature. If you have longer hair, you may need more than a few drops. Next, massage the solution through your hair, working from root to tip (and don't forget the scalp!). You can do this on wet or dry hair, but note that argan is more easily absorbed when hair is damp.
Once the oil is evenly incorporated, wrap your hair in a towel or wrap. For best results, leave it in overnight so that your hair can fully take in all the benefits of this liquid gold. Wash it out the next morning (or during your next wash day), and style as normal. Your hair will be more frizz-resistant, and you'll also notice shinier, more hydrated locks. Win-win!
Pure argan oil can also be used as a hair styling product to protect against heat damage caused by blow drying or straightening. Simply add argan oil to wet hair before styling as normal.
Éclat pure argan oil
If you're looking for an argan oil, our Organic Argan Oil won't disappoint. It's 100% pure and cold-pressed. We source it from the Tazi family farm in Morocco, where they've been growing argan trees and hand-pressing kernels for four generations.
It's this pure, potent oil that stars in all of our argan oil hair products. As it's cold-pressed, it retains 99.8% of its essential fatty acid content, which makes it extra nourishing. Our oil can be used on its own as a hair serum or styling product, or you can add it to your favorite conditioner or mask for a bigger hydration boost.
Thick and curly hair
Curly, thick hair is prone to moisture loss and split ends, and it's more porous than straight, finer hair, so it can really benefit from a thicker argan product like a mask.
Hair masks usually contain rich emollients and hydrators that can penetrate to the hair cortex and nourish strands from the inside out. Since curly hair strands are thicker, they can absorb these nourishers without weighing hair down or causing a greasy residue.
Éclat hair mask
How about giving our Éclat Argan Oil Hair Mask a go? Its star ingredient is pure, cold-pressed argan oil that repairs stressed-out hair and restores shine. In fact, it's been proven that argan oil can consistently restore shine when incorporated into a healthy hair care routine. Just make sure you choose one with cold-pressed argan oil, as it has more nourishing fatty acids than heat-processed oils.
Thin and dull hair
Do you have fine hair that's prone to breakage and split ends? Then you'll want to choose a conditioner with argan oil as its main ingredient. Argan's nourishing fatty acids and vitamin E content—paired with rich conditioning ingredients—will help to repair hair cuticles and protect against breakage.
While the right argan hair mask can also help you to achieve healthier strands, some mask ingredients can be too heavy for thinner hair and can leave a greasy residue behind, so choosing an argan mask with lightweight hydrators is a must.
For an added moisture boost, why not add an argan oil shampoo to accompany your conditioner? You'll get double the strengthening properties, and the argan will promote better scalp health during cleansing.
Éclat argan oil shampoo & conditioner
Our Argan Oil Conditioner features cold-pressed, organic argan oil, and it's enriched with avocado, macadamia, jojoba and apricot oils that hydrate without weighing down delicate hair. Added plant extracts like skullcap root and licorice stimulate circulation in the scalp to promote growth.
For even better results, pair it with our Argan Oil Shampoo! It features mild cleansing agent CAPB, which is derived from coconuts and cleanses without stripping hair of its natural oils. Our shampoo's formula is fortified with shea butter and ginseng to fight hair breakage and deep-condition lackluster hair.

Select your region