Do Foot Peel Masks Really Work?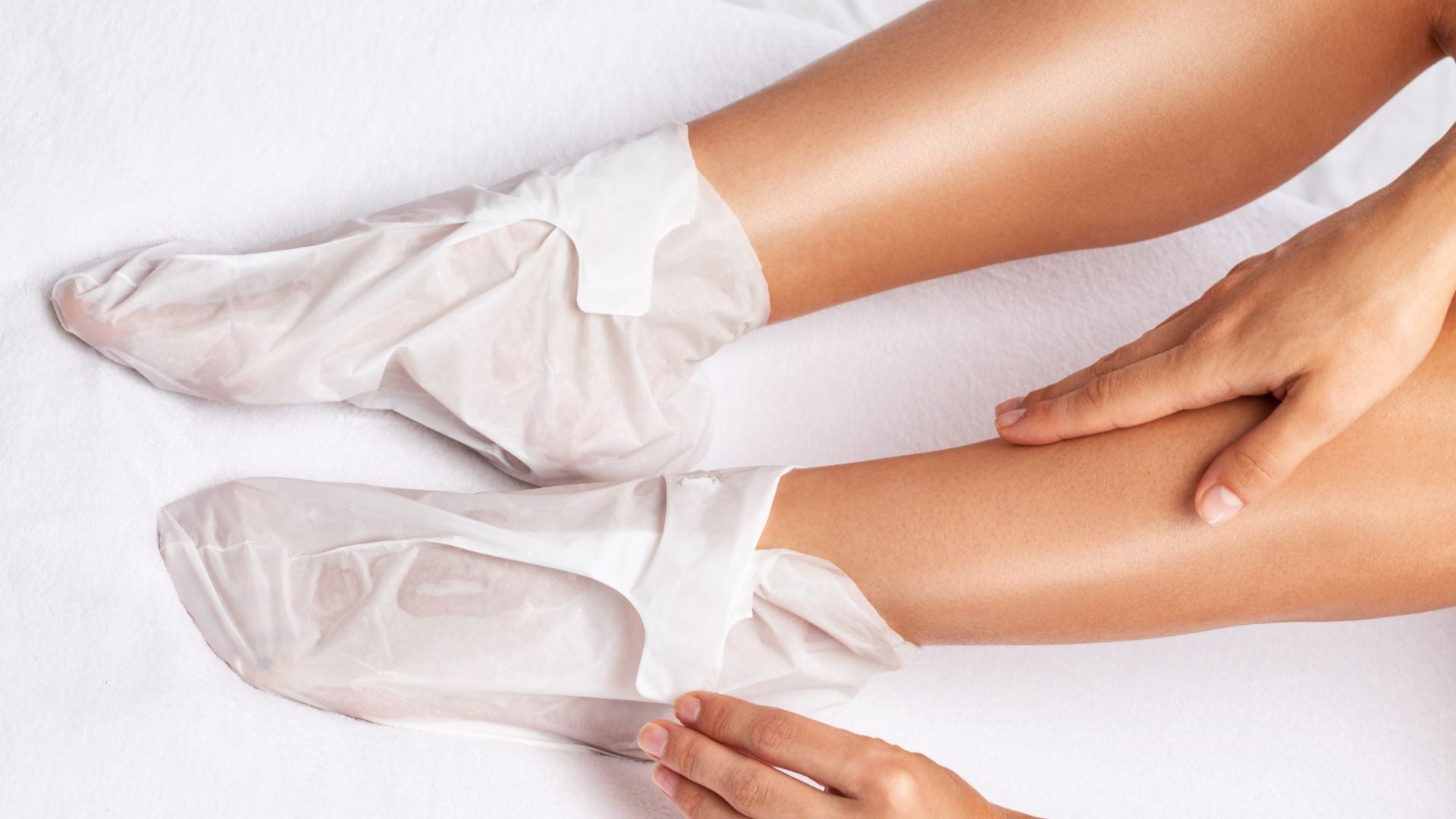 Whether you're reading this in the height of summer or during a chilly winter day, it's probably time to look at your feet. We know, not the most glamorous topic, but if you're making the transition from boots to barefoot—or vice versa—your feet are likely crying out for a little TLC. This doesn't have to be pricey, either. Taking a trip to the salon for a pedicure can be a thing of the past thanks to foot peel masks!
What are foot peel masks, you ask, and how do they work? Keep on reading, because we're about to dive into all the Qs you may have about how they can transform your feet, and why they're an affordable, fun way to pamper yourself without leaving the comfort of your home.
What are foot peels?
Let's start with the basics. Foot peels are an exfoliating treatment for your feet, whereby dead skin cells are sloughed away to reveal fresh, baby-soft skin beneath. If you've ever peeled a sunburn (guilty!) then it's kinda like that, but a lot more satisfying.
Foot peels can be used to combat a number of superficial skin worries on the feet, including cracked heels and stubborn calluses. They exfoliate, soften and soothe skin on one of the harder-wearing parts of the body. Whether you're a stay-at-home mom or an ICU nurse, foot peels are perfect for everyone.
Foot peel masks have risen in popularity over the last few years thanks to advances in skincare science, and foot peel formulas utilize some of the direct acids and botanicals that were previously used exclusively for facial exfoliation. Which brings us to... ingredients! There are few ingredients you'll want to look for when it comes to peeling treatments. Keep reading to find out which skin-shedding superstars we recommend to give your feet the best treatment.
What ingredients to look for in foot peel masks
No matter what you're after—soft feet, fewer calluses, or heel repair—you'll need an exfoliating foot mask containing at least one acid. Foot peel masks work by employing direct acids to shed the dead skin on feet—usually alpha hydroxy acids (AHAs) such as glycolic acid or lactic acid. If you're curious about direct acids and how they work, we've written a whole guide to skincare direct acids. Check it out!
Dr. Joshua Zeichner, MD and associate professor of dermatology at Mt. Sinai Hospital in New York City, explains that "These [AHAs] help dissolve skin cells in the outer skin layer so that the outer, rough skin can shed."
AHAs fall into the category of chemical exfoliation, which is a whole lot different to physical exfoliation, another popular skin-shedding technique where a physical object like a loofah or pumice stone is used to remove dead skin manually.
In contrast to physical exfoliation, chemical exfoliation is a lot more gentle, and it's suitable for sensitive skin, like the skin on the bottom of your feet! Along with AHAs, you'll also want to look out for formulas that include botanical extracts.
While AHAs like glycolic acid and lactic acid get to work by shedding dead skin, hydrating natural botanical extracts nourish feet and moisturize dry skin. This way, when the peeling process begins, you'll be left with ultra-soft, smooth skin.
Depending on the type of mask you use, you can expect to see results within a few days. However, more heavy-hitting formulas can take up to 1 week to start the peeling process.
How to use a foot peeling mask
Most exfoliating foot masks come in the form of formula-soaked booties. They make the peeling process easier as all you do is slip them on and sit down—perfect for giving your feet a much-needed break after a busy day.
As far as using a foot peeling mask goes, you can expect the process to be something like this:
Apply the peel


Slip the booties onto clean feet. Make sure to consult the instructions to find out how long to keep the mask on. This will usually be between 15-30 minutes, but the time can vary depending on the mask you're using.

Wait


This is the boring bit with foot peel masks. Because results aren't immediate, you have to be patient while the AHAs and botanical goodness get to work on roughened skin.

Watch your skin peel


This part is pretty gross, but oh-so-satisfying. After a few days, you'll see the skin on the bottom of your feet start to peel and puff, almost like a giant blister. You're not supposed to physically peel this off yourself, but instead to simply wait for the skin to fall off naturally. No judgment if you do peel it, though... we're all guilty of impatience when it comes to the peeling process.

Wear socks


This is important if you don't want to find pieces of dead skin around your house. Dermatologist Shilpi Khetarpal, MD,

advises

that you should "Protect your feet until everything is done shedding."
Enjoy the results
Once all the dead skin has peeled away, you'll be left with gorgeously smooth, soft feet that would even make newborns jealous. Make sure to pamper your freshly exfoliated feet by applying a hydrating lotion, which will lock in the all-important moisture you need to keep you feet feeling and looking their best.
Choosing your foot mask
If, after reading this article, you're now ready to give your hard-working feet the TLC they deserve, we recommend you take a look at our Éclat Foot Peel Mask. There's an abundance of peeling masks on the market, but we think ours is pretty special. It's a natural, 4-in-1 formula that not only exfoliates, but soothes, repairs, and hydrates. Quadruple win!
Our exfoliating formula pairs a 10% lactic acid content with 2% salicylic acid—a beta hydroxy acid—to remove even the most stubborn of calluses and rough, dry skin. By combining an AHA with a BHA, you reap more skin benefits, as BHAs are able to exfoliate on a different level than AHAs alone.
We've also included calming natural extracts, including centella asiatica, sometimes known as tiger grass, along with oat kernel extract. These super-soothers not only nourish skin during the exfoliation process, but they also draw moisture to the skin's surface to keep it moisturized and supple. You can expect to see peeling after 3-4 days, with fully refreshed feet after 1 week, once the peeling has finished.

Select your region